About Us
Through boutique catering, personal chef meal delivery, private chef services and traveling personal chef services, Chef Wes' culinary expertise is centered around the absolute love of food. We live out our passion every day because we are believers that the best things in life happen around a table.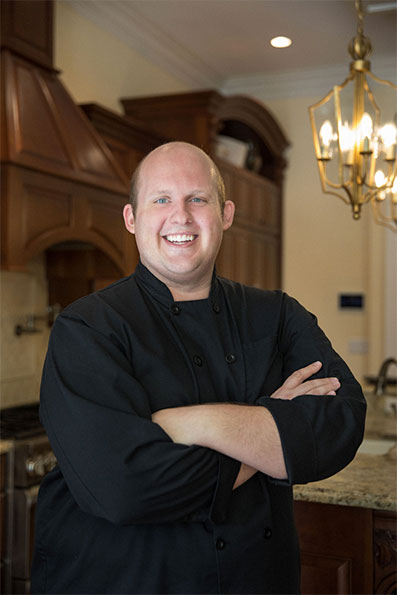 Growing up in the small town of Manchester, Ohio, Wes Morrison recognized at a young age that he had a strong passion for cooking. Fast forward several years, a move to Louisville, KY, and a graduate of a professional chef education, training and certification and Chef became his official title.
Rather than opening a restaurant, Chef Wes found the recipe to indulge his passion for cooking with a way to interact more intimately with individuals and families and their need for delicious and well-balanced meals. He became a personal and private chef. Nine years later, Chef Wes has become well-known as a personal chef in the Louisville community for his affiliations with local farms as he and his team plan and prepare individually crafted meals to accommodate their client's wide-ranging flavor preferences and nutritional needs.
We are a humble crew but certainly proud of our roots and our achievements and are grateful for our numerous clients and local affiliations.
"Your true worth is determined by how much more you give in value than you take in payment" -Bob Burg

"Our Go-To for Weekly Meals"
"Chef Wes is our go-to for our weekly meals. His menus are savory, seasonal, and full of healthy ingredients. I am a huge fan of his services because it allows me to relax and spend precious time reconnecting with my busy family."
– Linda

"We love the surprise that each week's menus bring but this past week was our FAVORITE! Who knew that we could fall in love with brussels sprouts? And the chickpea and veggie dish was simply divine. "
– Lori

"Thank you, thank you, thank you for taking a huge load off my plate (pun intended) and making my life so much easier. Spending time with my grandbabies instead of shopping and cooking is definitely a win!"
– Pris

"We have used Chef Wes for special occasions for many years. The interactions with him and his team have always been kind, gracious and efficient. I cannot say enough good things about his creative and sumptuous catering. We look forward to our next event using them."
– Jen