Not all chefs are created equal
Wes here. We have reached the part of this website where you read about all the cool places I have traveled to be a private chef for families/individuals and all the other interesting people I have cooked for. Let's be honest, writing about yourself is well, humbling. The thing is, I really have been lucky during my culinary career.  That said, you can find out all about my education, certifications, accreditations, testimonials and affiliations in another dedicated area of this site but for here, bottom line, all you need to know is that I'm passionate about being a personal chef.
I grew up in a small town in Ohio and have fond memories of time spent in the kitchen with my mom and grandma.  Many of the dishes I make today have their roots in what I learned from both of them. And no matter where my chef journey takes me, I will always be grounded by where I came from.
I love cooking delicious food. I love the beauty and simplicity of a well-prepared meal.  I love meeting people and talking to them about food. I love feeding people. At the end of the day, food that is cooked with thought and care then plated with a little love is what it is (and should be) all about.
Chef Wes proudly serves the Louisville metro and surrounding areas.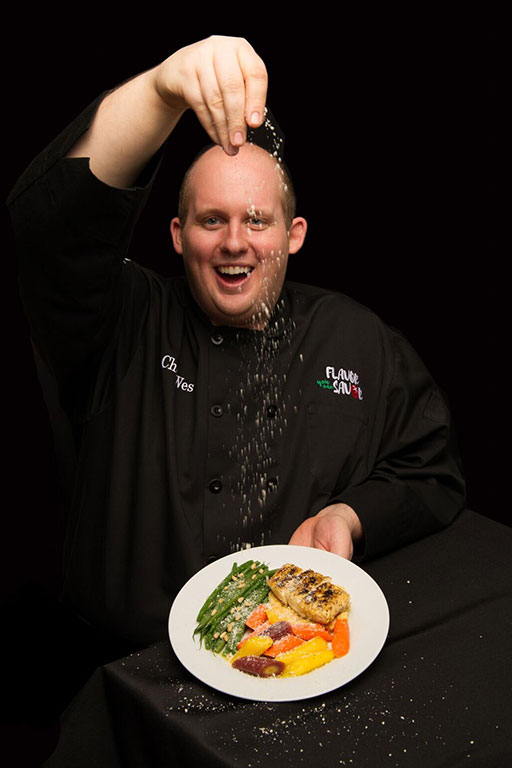 We understand that you have the best of intentions to eat nutritious meals, but with business travel, 10-hour workdays, and running the kids around, the last thing you are thinking about is dinner, right? Well, reserve a seat at the best restaurant in town, your home!
Let us handle all of your menu planning, shopping, and cooking. With our personal chef prepared meal delivery, it's all delivered right to your door. Chef Wes and his team can deliver extraordinary in-home gourmet meals any day of the week.
Chef Wes and team specialize in crafting intimate, boutique catering experiences in Louisville. Our chefs can be booked to arrive on-site to cook for your group (up to 100 guests). We customize our menus to suit the occasion and prepare everything from scratch.
Events where we shine include: holiday fetes, brunches, themed events, birthday/anniversary celebrations, business lunches, corporate meetings, dinner and cocktail parties.
Chartering a yacht? Renting a home away from home? Hire Chef Wes and his team of personal chefs. Relax completely on your vacation and leave the culinary details to us. Treat yourself and let our chefs pamper you and your guests with delicious morsels and meals.
We are able to travel to many different locations around the world and are skilled at provisioning, planning and cooking in the most challenging of environments.
The Chef Wes Team also offers private chef services for clients looking for a little more involved and intimate experience. As your private chef, Chef Wes cooks a high-quality custom meal in your home kitchen for plated service as often as you want or need him there.
If you're not home to enjoy a plated dinner, Chef Wes and his team can prepare meals for you to enjoy at your leisure. 

"Flexible and Accommodating"
"We have been receiving weekly meals from Chef Wes and his team for a couple years now and he is fantastic! They are delicious, well balanced and healthy. He is so flexible and accommodating with dietary concerns and food preferences. We always look forward to his meals"
– Brian and Michelle

"It's An Absolute Delight"
"I love hosting a dinner party when Chef Wes and his crew are involved. They are creative in crafting a menu that always tastes fabulous and they ensure that you are able to fully enjoy your time with guests, taking care of everything from set up to clean up. It's an absolute delight to work with them."
– Elizabeth

"Gives Us Time to Spend as a Family"
"Chef Wes and his staff prepare meals for our family several times a week, giving us more time to spend together as a family. As a parent working outside of the home, having someone create a menu, shop and cook healthy and tasty dinners and stock the refrigerator has been a tremendous help."
– Jack

"Chef Wes and team take the greatest care in preparing amazing menus for our social events and formal dinner parties.  The variety and freshness in each dish is truly notable and always earns great praise from our guests."
– Don